Digital driver's seat A new platform for Fiber to the Home
Smart digital tools and a well thought out strategy are crucial in telecoms and smart energy. Tom Van der Aa, Chief Digital Officer at Circet, takes you through Circet's digital landscape in Digital Driver's Seat. In the second episode we explained how we achieved our transformation to a digital mindset. Today, Tom talks about how we are also using that approach for Fiber to the Home.

A platform for fibre optic projects
Fiber to the Home is one of Circet's growth pillars. How does the digital mindset fit into that story?
"To understand this you have to know where we come from. We do a vast number of Fiber to the Home projects in Belgium and the Netherlands. These projects require a structured and correct follow-up. Before, when Circet was still fragmented into different SMEs, each of those organisations had its own platform to manage Fiber to the Home deployments. At some point, the software package of our two largest sites came to the end of its life cycle. And so we wanted to put our digital philosophy to work and immediately implement that digitalisation for all our sites."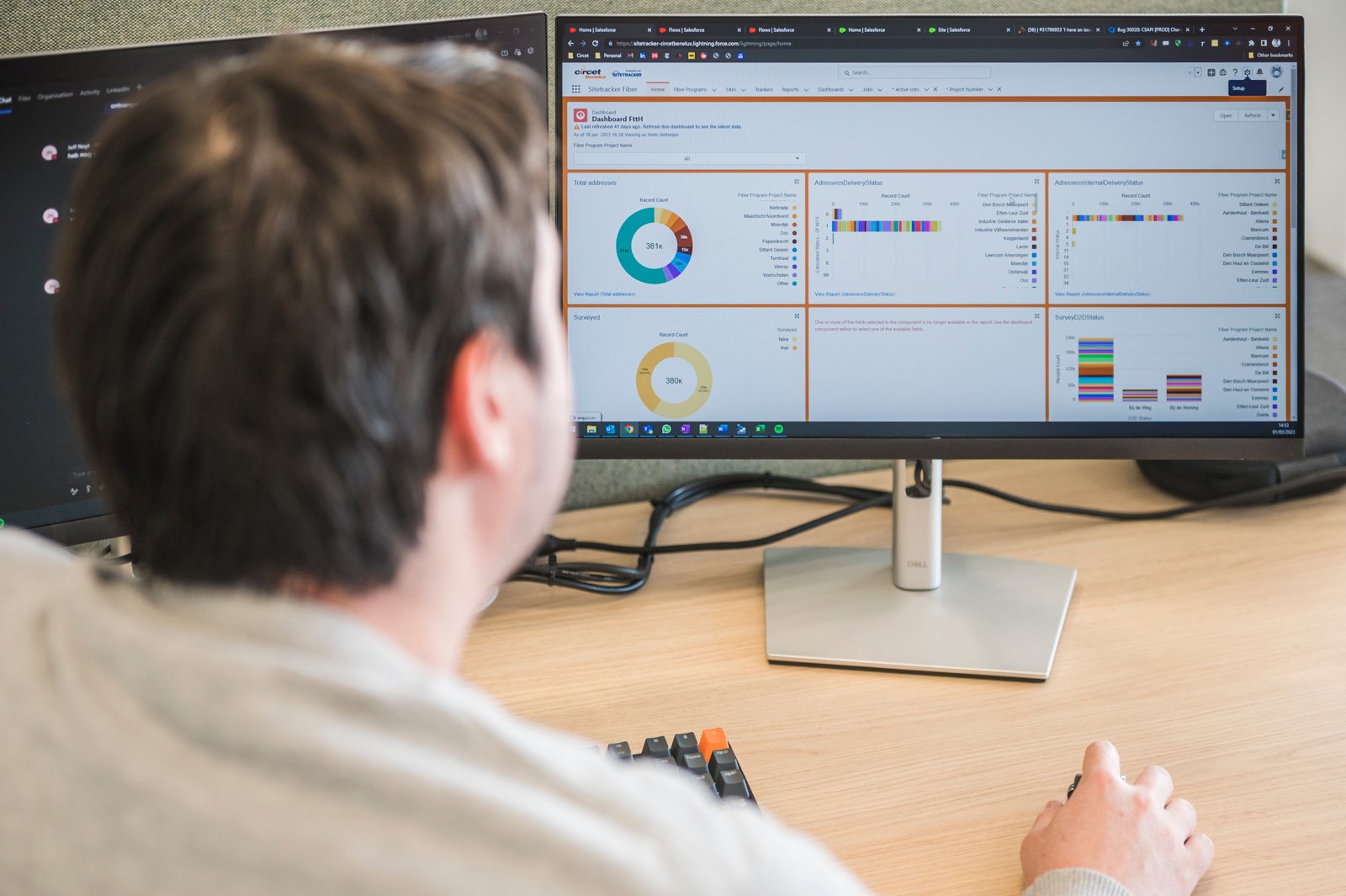 What exactly does this software package do?
"Everywhere we deploy fibre, we collaborate with our customer, the back office services and all employees who carry out work in the field. For all the planning and monitoring of such a project, we use a 'deployment operations management' platform."

"Practically speaking, our employees who carry out excavation work enter into the platform the progress of the project, for example how many metres they have dug that day. On that basis, follow-up, further planning, information exchange with customers and suppliers and so on is done. That platform really drives our Fiber to the Home projects."

And so you immediately started looking for a new tool?
"You don't just replace an entire 'drive system', so we took a thoughtful approach. The first step was an objective comparison between different tools in the market. We looked especially at countries like Spain and France, where a lot of fibre has already been rolled out. Moreover, an important requirement was that for the people in the field, change would be limited to a strict minimum: we wanted to keep our app. Basically, we wanted to replace the engine while driving, while the front had to look exactly the same. Every day, there is digging, house connections are realised and our client receives updates on the progress of the projects."
"We wanted to replace the engine while driving, while the front end had to look exactly the same."
"Our eye finally fell on Sitetracker: a platform that our colleagues in the UK, Ireland and France had already used for smaller projects. So we already knew the supplier, and also knew that we could roll out the platform without radically changing the front end (the app). It was the ideal mix between retaining our way of working and a completely new engine with many more digital capabilities."

Automation and integration
What are those possibilities?
"The platform can do much more than just fibre projects. Mobile deployments - one of Circet's growth pillars - are also possible. The fully digital platform offers many opportunities for automation. Technical drawings are automatically forwarded, customer appointments are centralised and automated ... "

"For example, an integration with our ERP ensures that materials are delivered automatically based on real-time data about the works. Automation, communication and real-time data exchange creates a whole new dynamic in how we work with our clients. That opens the door to roll out even more innovations in the future. "

How did you implement the new platform?
"Given the impact of the implementation, we took it very seriously. We put together an IT team, supplemented by operational experts, for example our operational directors from the sites in Waalre and Veenendaal. Early this year, we started the roll-out, and after only four months, we got our first customer fully operational on the new platform. A gigantic achievement by our technical and operational teams, of which we are very proud."

Are you already seeing results from this new digital approach?
"Because our two biggest sites - Waalre and Veenendaal - now work together on the same platform, we see even more collaboration. Our people are talking to each other, releasing a piece of their culture and local way of working. Previously they were stand-alone sites, now we see a completely new dynamic arising from the cooperation. From operations, we have now managed to roll out one methodology across the sites. Moreover, we have standardised and documented our processes."

The benefits for end customers and clients
Besides better internal cooperation, are your customers noticing benefits from the new approach?
"Firstly, we can now offer greater continuity of works. We are onboarding new clients in the new platform, and a big advantage is that there Is also much more integration between different tools. The whole workflow, including client appointments and project delivery, is now integrated in one environment.
"The entire workflow, including client appointments and project delivery, is now integrated in one environment."
Do your clients and customers also see the added value of this?
"Absolutely. We are now organising workshops with clients on the platform's capabilities, and this is met with particular enthusiasm. Large clients sometimes work with their own platform, which we now connect to effortlessly. Smaller clients do not yet have a platform, so for them it is a great added value that we offer that, with a great focus on privacy, security and performance. These are increasingly important requirements in clients' specifications."

"This is how we differentiate ourselves in the market. By the way, we are not dependent on the software supplier, because we have rolled out everything ourselves. As a result, the expertise is with us, and we can switch very quickly with clients. Once again, kudos to our technical and operational teams for implementing the new platform so quickly. We already have some 40 projects in the new package.

What are the plans for next year with this new package?
"Many more innovations will no doubt sprout from the workshops with clients. The engine is there now, and if there is a good business case, we are ready to embrace it. In 2023, we want to focus even more on full integration and data exchange with clients and suppliers. We want to exchange even faster and more data and automate more processes, such as project delivery. We now have the right digital foundations and the necessary knowledge for that."
---
Digital Driver's Seat: Circet's digitisation story
Digitalisation is at the heart of everything we do. How It has grown, and why it is an integral part of our way of working? You can find out in Digital Driver's Seat, a series highlighting our development from interested layman to most digital-first player in the infrastructure market.